Pre Espresso 1939 – 1979
Pure fresh coffee started to become central to the hospitality offering. Coffee houses begin to become part of New Zealand's social environment.
Serious Espresso 1980 – 2003
Espresso machines were tuned for taste, then roasting machines were tuned for Espresso. Coffee houses become important in New Zealand's social environment.
Post Espresso 2004 onwards
Freshly roasted beans available anywhere, espresso everywhere. A wide variety of high standard coffee houses throughout New Zealand.
The three waves of New Zealand coffee houses pivot around espresso coffee. Espresso machines first came to New Zealand in the 1950s but by the mid-1960s most had disappeared. During the 1980s they slowly began to reappear and after 2000 the espresso machine became the leading form of coffee preparation. This book considers espresso in the 1950s and 1960s, but the main purpose is to put on record the foundation of the New Zealand coffee house at a time when Cona coffee was the King.
Hospitality, without alcohol, required a different setting. In earlier times 'Refreshment Rooms' referred to places where non-alcoholic drinks and light snacks were served. Most were stand-alone, but some were found in railway stations and department stores. Two types of refreshment rooms that influenced today's coffee houses were tearooms and milk bars.
The rise of tearooms came prior to the First World War, then between the two world wars milk bars appeared.
Tearooms in department stores were very popular in the 1920s and 1930s. They were considered fashionable and they set out to appeal to women.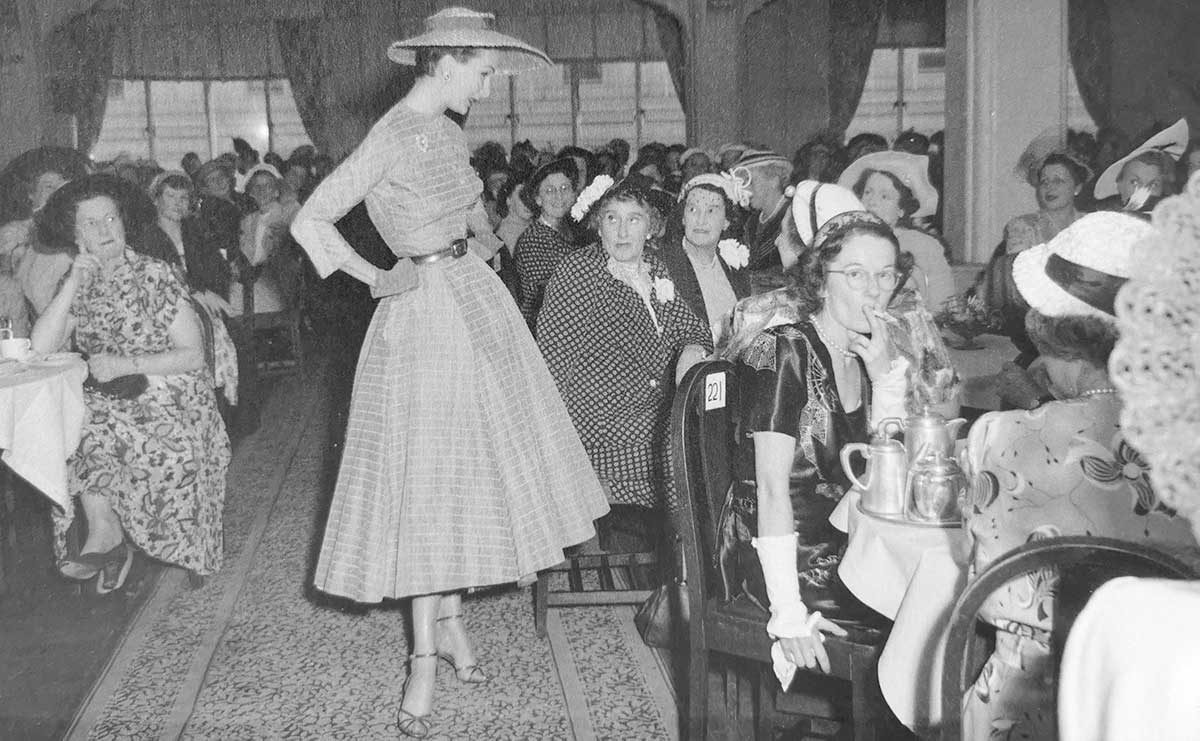 The most elegant of tearooms were in the Department Stores. The James Smith Department store had their tearooms on the first floor away from the street. The style, such as the heavy drapes and the silver tea sets, was starting to look dated by the 1960s. The fashion model looks to belong to another era than that of the patrons. English and Scottish tearooms were the main influence on style and fare.
——–
Milk bars began in the 1930s and received a growth spurt during the Second World War when American servicemen arrived for Rest and Recreation from the war in the Pacific. Milk bars offered a more active, open-plan setting in which to have refreshments. This plan made it easy to move to and from the street. Once inside you could stand or sit, and mingling was possible. During the 1960s and 1970s the stylish cachet that department stores had as eateries disappeared, as did milk bars. Much of the design and trade-craft of milk bars and tearooms were transferred to the first wave of coffee houses.
A change in hospitality occurred in 1939 when people started to consider serving coffee as the central offering. In November of that year Arthur Dick (A.D.) Singleton began selling coffee by the cup at the Centennial Exhibition, which remained open for six months. The exhibition was set up to celebrate 100 years of New Zealand as a nation state. It was staged in Rongotai beside what is now Wellington airport. Singleton had seen how people were enlivened by drinking a cup of fresh coffee. This gave him the confidence to open the French Maid Coffee House in Lambton Quay, which became a central gathering place for artists, writers, theatre people, broadcasters, academics, and others during the 1940s. A. D. Singleton roasted green coffee beans on the premises. Then in the 1950s and 1960s he roasted coffee for some of Wellington's most notable coffee houses and restaurants from his factory in Petone.
Alfred Fagg roasted coffee before Singleton. In 1927 Alfred Fagg began his career in New Zealand as a high-end grocer. He roasted his coffee in a specially made room at the entrance to his Cuba Street store. In 1949, after 23 years in the business, he sold it. The purchaser, John Calvin, grew Fagg's into the pre-eminent supplier of freshly roasted coffee nationwide. Fagg's were the main suppliers of special blends for Wellington's coffee houses during the 1950s, 1960s and 1970s.
In the 1950s, 1960s and 1970s there was always a hospitality place open and providing somewhere welcoming where you could get coffee that has been freshly roasted and brewed. Good food was also available. As was a whole lot of style. These were hospitality businesses owned by Greek settlers. Wellington-Greek restaurants had their own flair and hold a place, sometimes forgotten, in the history of Wellington's hospitality industry. The style and character of these walk-in restaurants also influenced New Zealand's coffee houses.
A milk bar with Neon lights. The counter had three sides and the space is open to the street. The surfaces are shiny and smooth, part of the streamlined 'hygienic' look that replaced the upholstered and curtained styling of pre-Second World War refreshment rooms. Some milk bars were set up to service the movie and theatre crowds. They were designed to allow many people to order within a short space of time. American diners and soda fountains were the main influence.
——
During the pre-espresso period some unique people created original and much loved coffee houses, the best known of which was in Nelson. The Chez Eelco Coffee House was open for business from 1961 to 2000. Its owner, Eelco Boswijk, created an artistic blend of fresh 'billy coffee', food and sociability.
Suzy van der Kwast was another person of considerable dynamism. She organised and managed her coffee house, 'Suzy's', in Willis Street from 1961 to 1987. It was to become an institution for all types of people. Suzy offered beautiful Cona coffee along with new types of food dishes, including a salad bar and a lighter, tastier, approach to cakes.
The Coffee Gallery, in Lambton Quay operated from 1958 to 1968. This was the coffee house that epitomised Modernism. Only a special type of person could breathe coffee and culture into such a designed space.
——